SERVICES
BRIDAL MAKEUP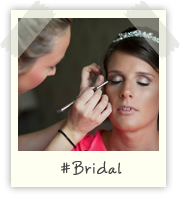 Your wedding day is one of the most treasured and special days in your life. A professional makeup artist is a necessity for all brides who want a stress-free day, to feel confident and look their best. With Gemma's professionalism and calming influence, she will ensure you feel relaxed and radiant, which will allow your inner beauty to shine on this memorable occasion.
"Every Bride should feel outstanding and confident on their special day. Your makeup should enhance and accentuate your natural beauty, and with my expertise, I will ensure you feel and look your absolute best."
Having worked with Brides from all over the world, in different environments and climates, Gemma will ensure that your makeup will look as flawless at the end of the night (or the following morning!) as it did on first application.
CONSULTATION/TRIAL
"A trial is an essential part of your wedding preparation. During this consultation, we can discuss and incorporate specific details and designs into your chosen look, to ensure it is unique and tailor-made to suit you."
Trials are available for the entire wedding party if required, and are highly recommended for both the bride at least one of your bridesmaids.
LOCATION SERVICES
On the wedding day, Gemma will travel to wherever you feel most comfortable getting ready. Gemma will arrive as early as you require, and stay until you have your dress and accessories in place, ready for your final touches.
Gemma is able to provide expert advice on how to maintain your look throughout the day, however, she is also available to stay on hand to provide touch-ups if required or slight changes for the evening. This service is available at an additional cost to your bridal package, and must be booked in advance.
FULL/HALF DAY BOOKINGS
Please contact Gemma for rates and booking details regarding photo-shoots/film/tv/events.
EVENT & OCCASION MAKEUP
A Makeup Artist is not just for Christmas (or just for your big day!) Whether it's a red-carpet event, graduation ball, or a girls' night out on the town, Gemma can help you achieve the perfect makeup look for any occasion throughout the year. Other services include:
Wedding Guest Makeup
Birthdays
Ladies Day at the Races
Halloween
High School Proms
Hen Parties
Charity Events
Corporate Events
MAKEUP LESSONS
A Makeup Lesson can be an invaluable addition to your makeup bag. From colour choices to advanced application skills, Gemma can teach you how to professionally apply your own every day and evening makeup.
Using specialist tips and techniques, Gemma will demonstrate the makeup application on one half of the face, and will guide you to re-create the same look on the other half. "This is not a 'make-over' (I don't come in your makeup bag!) This is an in-depth, step-by-step approach that allows you to comfortably apply your own makeup with the same confidence as a makeup artist."
Gemma can also advise you on key products that would be beneficial to your everyday, evening or specific look.
Getting married abroad? Gemma can develop and create a unique bridal look, and teach you how to expertly re-create it for your wedding. From application to brush techniques, Gemma will ensure you are confident to become your own personal makeup artist on your big day.
Makeup lessons are a 2-hour consultation, and can be scheduled at a time and location convenient to you.
MAKEUP PARTIES
Transform your girls-night-in to a mini girlfriend party! This is a makeup lesson developed to be incorporated into a group environment, allowing everyone to learn expert tips and tricks in a fun and friendly atmosphere.
"You provide the location and refreshments, and I provide the makeup!"
*These parties can be adapted for Charity, Corporate and Commercial Events.
PRINCESS MAKEUP PARTIES
Create a unique and exciting way for your little princess and her friends to celebrate her birthday with the perfect mini-makeup party! Please contact Gemma for further information.
***
For rates and further details of any of the services above, please contact Gemma here.